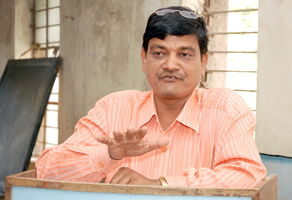 Mr. Nandkishor S. Mandavkar (B.A., L.L.B., MIRPM, DIS)
Chief Managing Director
Ex-I.A.F Other (Govt of India).
Gold Medalist Fire Safety Officer (Ministry of Home Affairs, Government of India, New Delhi).
Chairman of: Disaster Management Federation Pune Maharashtra.
Member of: Fire Safety Association Aurangabad & National Safety Council.
Secretary of: K. Nagraj Baba Charitable (Rugnseva) Trust.
Education
Master of Industrial Relation and Personnel management.
Bachelor of Laws (LLB).
Bachelor of Art.
Course in Sub Officer (Ministry of Home Affairs, Government of India, New Delhi).
Diploma in Industrial Safety Management.
Diploma in Fire Engineering Technology.
Diploma in Health Safety and Environment Management.
Secretary
K. Nagraj Baba Charatible (Runnseva) Trust
Member
Fire Safty Association Aurangabad
Nation Safety Council
Dear Students,
Hello and welcome to Fire Safety & Management college. Thank you for interest in our college . I hope you will find to be inspiring and informative.
Our Mission to Develop the student though practical and professional education specialized skill, broad vision and mission on the fast track of higher technology .
It gives us immense pleasures in presenting Fire Safety and Management before you as a premier Institution in the country set up to provide education in the areas of Fire Engineering and Safety Management and allied Engineering fields.
Fire Safety and Management college is an organisation that focuses on innovative approaches to Fire and Safety Engineering. It's purpose is to train people in the field of Fire and Safety and encourage and integrand approach to the reduction of life and property loss from fire by effective educational programs. The college pursues this goal by conducting several coursesforthe publicwith extensive practical training.
"Success is achieved by those, who dare to dream and work upon their dreams thus explore the possibilities of whole world who remain confident and firm about their decision and keep focusing on their goal. You can be one of them if you adapt above qualities in you". It is said that if we have solid determination there are lot of ways to achieve our target. Fire Safety and Management college is introduced as a way for you like that.
We need you and your support in our capacity that you can give it. our aim is to get success. our college will present strong education support for all the become a solely fire techonology as I am confidant that all are creation will prove to be pioneer if you open the door of opportunity for us.